Introduction
From the director and cast of Thailand's No. 1 horror comedy MAKE ME SHUDDER comes the teenage zombie flick, ZOMBIE FIGHTERS. The impish boys are back in action in director Poj Arnon's heart-stopping, gut-busting horror comedy, but, instead of ghosts, the gang now has to fight and stay alive in an impending zombie apocalypse in their country.
Synopsis
After his parents went missing from a visit to the hospital, Audy (Korakrit Laotrakul) and a group of friends decide to break into the now-quarantined area to find out what happened. They soon discover the horrific truth hidden behind those walls… The hospital is overrun with zombies! Trapped with these brutal beings, Audy rings his brother Lambo (Bhuvadol Vejvongsa) for help, but the conversation gets cut midway.
Lambo, accompanied by their dim-witted brother Cooper (Kittipat Samantrakulchai) and friends Auto (Worachai Sirikongsuwan), Krasoon (Supakrit Thinjun) and Bas (Pasakorn Sanrattana), ventures into the hospital to save Audy. Only there did Lambo and gang realise the terrible fate that awaits them, as they encounter hordes of zombies, hungering for their flesh and blood. Fortunately, they are saved by a mysterious woman (Jutalak Chaweewannamas). They learn that a deadly virus outbreak in the hospital years ago turned everyone inside into zombies. The boys must now fight their way out in order to stay alive. Will they survive this impending zombie apocalypse?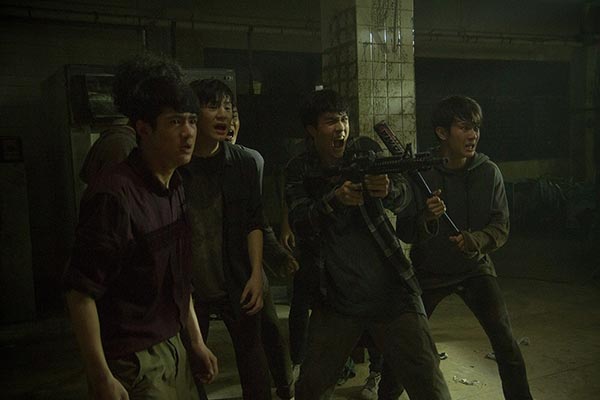 Film Details
Cast: Bhuvadol Vejvongsa, Kittipat Samantrakulchai, Korakrit Laotrakul, Worachai Sirikongsuwan, Supakrit Thinjun, Pasakorn Sanrattana, Jutalak Chaweewannamas, Preampiti Umprasirt Genre: Action, Horror
Language: In Thai with English and Chinese subtitles
Runtime: 103 mins
Rating: NC16: Violence
We have

2 pairs of movie pass

to giveaway:
Like Haru House Facebook Page & Share the post.
Tag a friend you wanna bring to watch with you.
Closing date : 17th Aug 2017, 23:59pm.
Winner will have to be based in Singapore for tickets to be mailed to you.